Paint mares
APHA REGISTRY
THE FOUNDATION OF OUR BREEDING PROGRAM
On this page are the mares we have and have been selected for conformation, pedigree, and temperament. We are very proud of our mare band and up and coming fillies that will be added on the prospects pages. We have marked a few mares for sale and can be seen on sales pages or mares pages also. Any horse can be bought if you see something and are interested please call or email for pricing, all reasonable offers considered.
Misty Delta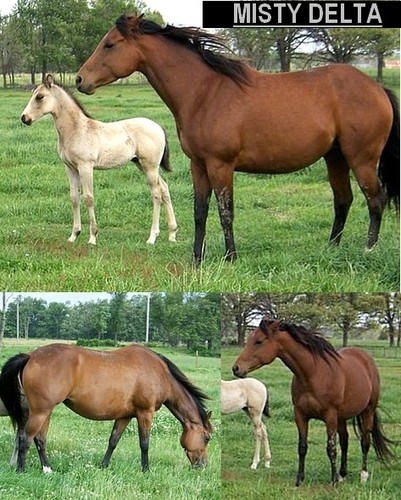 MISTY DELTA pictured below
APHA MARE 15.1 H.
2003 SOLID BRED BAY APHA
this mare rides, see her on the riding horses pages.
(DOCS DELTA DUDE x DOCS FROSTY BAR)
HAS BEEN HANDLED ALL HER LIFE. WAS STARTED AS A 2 YEAR OLD. HAS HAD YEARLY VACCINATIONS, REGULAR DEWORMING AND TRIMS. LEADS, TIES, TRAILERS. SHE IS SOUND, STRAIGHT AND CORRECT. HAS A SCAR ON THE REAR AKLE THAT DOES NOT INTERFER WITH ANY MOTION OR PERFORMANCE ABILITY. OWN daughter of Docs Delta Dude:(2004 Res World CH.Senior Working Cow Horse, 2004 World Wide Congress Ch. Working Cow horse and Heeling(unanimous), 2005 World Wide Congress High Point Open Horse 6 Championships, 2004 and 2005 APHA Honor Roll working cow horse, steer stopping, heading, heeling, tie down roping, 2006 World Wide Congress High Point Open Horse, High Point Cattle Horse 4 Championships and superiors in roping, heading, heeling, steer stopping and working cowhorse. Pedigree has Docs Malbec 1977 CRCHA SBF World Champion Stallion 1978 Cow Palace Hackamore Classic Champion Sire of Reining and cutting horses earning over $175,000 in the futurity Sire of multiple congress champions Sire of multiple world champions- Western Pleasure, Reining, Working Cow Horse Sire of multiple superior producers- Western Pleasure, Team Roping, Calf Roping, Working Cow Horse, Tie Down Roping Sire of AQHA performance Champion Sire of AQHA Versatility Award winner 1974-2004 He last resided in Northern Minnesota.(Thorssen Quarter Horses)son of Doc Bar (Hall of Fame), Delta (Hall of Fame), Delta Olena(World Ch. Roper and multiple ROM earner), Doc O Lena(1970 NCHA Futurity Champion.
NCHA LTE: $21,991.93.A Leading Sire and Leading Maternal Grandsire NCHA Money Earners. AQHA Hall Of Fame, and Sire Of Multiple NCHA Hall Of Fame) SIRE OF: NCHA FUTURITY CHAMPIONS, Triples Titan , a leading Sire of APHA Champions, Roms, World & National Champion Sire. Dams side also includes foundation QHs, Hired Hand, Rey Del Rancho and Lucky Star Mack.
DOC BAR:(FOUR TIMES) Lleading sire of AQHA Champions,
NCHA Champions, and Arena ROMs.
AQHA Hall of Fame
Stallion Offspring Record,
World Champion , WP, CUT, WCH, HUS,
Reserve World Champion , CUT, Top Ten World Show , Superior Halter , AQHA High Point Halter , CUT, Superior Performance , AQHA Champion , ROM Halter ROM Performance , Performance Point Earners, Hall of Fame , NCHA & AQHA Offspring earned $1,178,484 in cutting.
SIRE OF: Wrld Ch 9, Resrve Wrld Ch 4, Top Ten World Show Offspring, Superior Halter
Click on the link below to read about the mare Delta the story on this line of horse..go to her.
click on the link below to read Delta's full stats.
not for sale. she had her first filly a red dun on the 2013 foal page, our keeper. Leaving her open to ride for a year.
---
---
QTS Tuff Rose Olena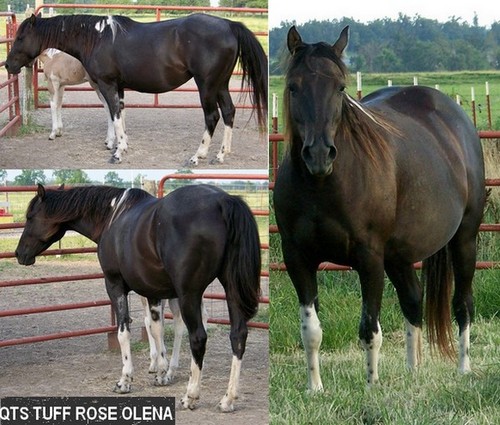 QTS TUFF ROSE OLENA 14.2 H
(QT POCO STREKE x TUFFYS SOLID OLENA)
2001 black APHA mare with the blood lines of Pepsi Poco, Beau Shoshone, Double Q ton Eagle, King Glo, Doc O Lena to name few. She is an own daughter of Q T Poco Streke.
QTPoco Streke has EARNED THE NRHA BRONZE TROPHY, THE APHA WORLD CHAMPIONSHIP RESERVE REINING STAKES, WINNER OF THE WORLD WIDE PAINT HORSE CONGRESS, HIGH POINT OCAP HORSE (ALL THRU NRHA COMPETITION). HE WAS RESERVE NRHA LO AT THE ALL AMERICAN QUARTER HORSE CONGRESS (AGAINST 47 AQHA REINERS). HE IS TWICE NRHA OPEN CHAMPION, AND TWICE NRHA LO CHAMPION. HE HAS EARNED HIS ROM IN REINING (18 pts) AT 2 SHOWS. QT WAS HIGH POINT MIDWEST OPEN AND LIMITED OPEN REINING HORSE. HE IS THE SIRE OF WELL OVER 490 PAINT FOALS, AND THE SIRE OF 4 TOP TEN APHA WORLD SHOW 3 YEAR OLD REINING FUTURITY FINALISTS AND A TOP TEN 3 YR OLD CUTTING FINALIST. HIS GET HAVE EARNED OVER 1500 POINTS IN HALTER, WESTERN PLEASURE, STEER STOPPING, CALF ROPING, HEADING, HEELING, REINING, AMATEUR REINING, WORKING COW HORSE, AND WORKING RANCH HORSE. THEY HAVE WON MONEY IN WEANLING HALTER FUTURITIES (INCLUDING THE SOLID GOLD), LONGE LINE FUTURITIES, NRHA OPEN AND AMATEUR REINING, AND NRHA REINING FUTURITIES. QT\\\\\\\'S OFFSPRING TO DATE HAVE WON OVER $22,000, IN ALL DIVISIONS OF THE NRHA. QT IS THE SIRE OF 41 ROM\\\\\\\'S, 9 SUPERIORS , AND 2 WORLD CHAMPIONS. HE HAS BEEN THE LEADING SIRE OF PAINT REINERS FOR THE PAST 5 YRS. QT IS ALSO THE SIRE OF THE NRHA RESERVE WORLD CHAMPION IN 2003. IN 2004, QT WAS THE SIRE OF 4 TOP TEN HORSES, 1 OF WHICH WAS #1 IN 3 DIFFERENT EVENTS.
Also a grand daughter of Red Doc NCHA money earner son of Doc O Lena
CORNELL UNIVERSITY TESTED FOR HERDA RESULTS ARE NEGATIVE!
Doc O'Lena
Hall of Fame
NCHA Futurity
NCHA Derby
NCHA money-earner
Performance Point Earner
Stallion Offspring Record for Doc O'Lena
Hall of Fame Offspring:
NCHA Horse of The Year:
World Champion Offspring:
Reserve World Champion Offspring
Superior Performance Offspring
AQHA Champion Offspring
ROM Halter Offspring
ROM Performance Offspring
NRHA Money-earners
NCHA Money-earners
NRCHA Money-earners
All-time Leading Sire:
foaled a beautiful filly 2/14/13 black and tobiano a keeper for her replacment.
$2500.00 bred for 2014
sale pending to michgan. being bred to prince for 2014
---
---
HESQ Amigos Moon Rose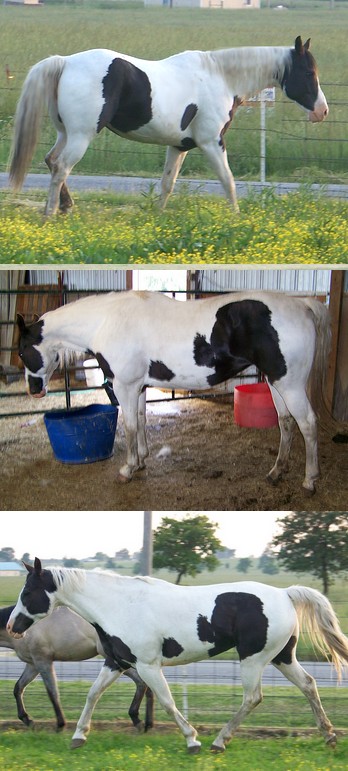 (SONNY AMIGO BAR X MOON CUTTER)
2000 black TOVERO mare 15.1 h.
SONNYS AMIGO BAR: APHA world champion heading - 13 pts heading, 5 heeling, 3 roping. Foals have earned over 3029 points
Go Lucky Matt: H-16/P-34
Performance ROM
Champion Sire
POINT EARNER:
16 Halter
11 Western Pleasure
10 Hunt Under Saddle
2 Reining
3 Dally Heading
1 Jumping
2 Cow Horse
1 Working Hunter
Merle Haggard: race money earner
Moon Lark: AQHA Race SI-99 AAA
19-13-4-0 $859,356
ROM Performance
Won the 1978 All American Futurity
1978 Champion racing 2YO & 2YO colt
1979 Racing World Champion, & Champion 3YO colt (4X world champion race)
Sire of: World Champion Race, Superior Performance with earners in excess of $10 million
Top Moon: AQHA Race SI-100, AAAT, SW, ROM Race, 40-15-9-5, $40,636.
AQHA HALL of Fame
Sired 1829 foals, 1340 starters, 795 winners, 4 World Champions, 74 Stakes Winners, 77 Stakes Placers, 804 Racing ROM, 62 show ring pt. earners, 19 ROM Arena.
not for sale.
had a very nice black and white colt by Chief for 2013. Bred to Prince for march 2014
---
---
ShiningTivio Bar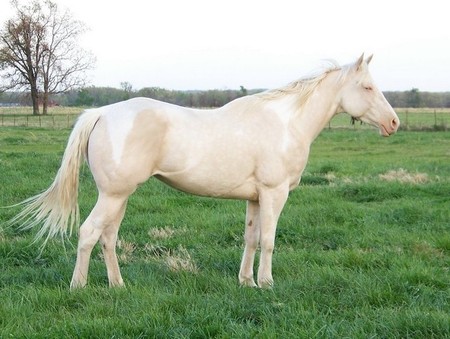 (shining simon QH x king star bar APHA)
2003 CREMELLO TOBIANO APHA 14.3 h.
Grand daughter of Shining Spark
Hall of Fame
World Champion
ROM Performance
NRHA money-earner
World Show Qualifier
AQHA Leading Sire
Stallion Offspring Record for Shining Spark
World Champion Offspring
Reserve World Champion Offspring
Superior Performance Offspring
AQHA High Point Performance Offspring
ROM Halter Offspring
ROM Performance Offspring
NRHA Money-earners
NCHA Money-earners
NRCHA Money-earners
World Show Qualifiers
Superior Cutting
NCHA $23,922
ALL-TIME LEADING CUTTING SIRE; AQHA Reserve World Champion Sr. Cutting.
See him at www.carolrose.com
An All-Time Leading Cutting Sire, An All-Time Leading Reining Sire, Equi-Stat Top 15 Leading Cutting, Reining and Reined Cowhorse Maternal Grandsire, Equi-Stat NRCHA #4 Leading Sire of Sires.

---
Pedigree also has Zan Parr Bar:
Stallion Show Record for Zan Parr Bar
World Champion
Top Ten World Show
Superior Halter
AQHA High Point Halter Horse
Superior Performance
AQHA High Point Performance Horse
AQHA Champion
NRHA money-earner
Halter Point Earner
Performance Point Earner
Stallion Offspring Record for Zan Parr Bar
Superhorse Offspring
World Champion Offspring
Reserve World Champion Offspring
Superior Halter Offspring
AQHA High Point Performance Offspring
AQHA Reserve High Point Performance Offspring
AQHA Supreme Performance Champion Offspring
AQHA Champion Offspring
ROM Halter Offspring
ROM Performance Offspring
NRHA Money-earners
NCHA Money-earners
NSBA Money-earners
NRCHA Money-earners
Halter Point Earners

and Bar Money
AQHA Champion
AQHA Supreme Champion
AQHA Race SI-95 AAA
ROM Race
13-4-2-3, $1,797
Sire of:AAA, ROM Race
AQHA Champion
Hi-Point Performance
Superior Halter
Superior Performance
ROM Arena
Producing daughter sire
and not the least Tivio Bar
NCHA Earnings $9,836.
1975 Top 10 Open Cutting Horse, CCHA & VCHA.
Sire of NCHA Money Earners, ROM Perf.,Halter & Perf.Pt.earners
all of these above on her papers, one off of her papers Doc Bar, Mr Diamond Dude, Par Three, Three Bars and Quincy Dan.

---
Has 9 HALL OF FAME horses in her pedigree, Blondys Dude, Clabber, Doc Bar, Diamond Sparkle, Top Deck, Joe Reed, Joe Reed II, King and Three Bars(one off papers).
If I could describe this mare in short, she is in comparison to humans Dolly Parton. She is perfection, beauty and grace all rolled into one, full bodied, voluptous, great big chest and rear is massive, pretty faced arab like, very feminine, great legs and with awesome movement, unbelieveable trotting, and so strong and delicate at the same time. WE are very excited about this mare and the cross on her and our stallion Iceman, is unlimited, for potential, in reining, roping, working cowhorse and for future breeding also.
2013 Had a beautiful smokey black tobiano filly!
sale pending to michigan!
---
---
Smart Little Cita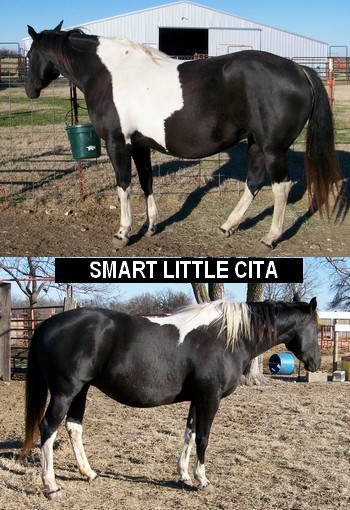 2001 APHA mare
(Citas My Amigos X Smart Sans Olena)
2001 APHA BLACK AND WHITE BROKE TO RIDE .
Click on her name to see her pedigree of champions, performance bred, roping, reining, cutting. Her half brother stands at stud and is being shown has his Superior in reining Smart Leo San Cita. We are very thrilled Her grandfather, Leo San Cita info pictures has done a lot! Here's a list of accomplishments:
17 Grand Champions
Halter Point Earner
Performance Point Earner - 350 Points
Superior Halter
Superior and ROM Working Cowhorse
ROM Heeling
Superior and ROM Steer Stopping
Superior and ROM Reining
Superior and ROM Heading - 104 Points
1995 Champion Honor Roll Working Cow Horse (85 pts)
1995 Congress Reserve Champion Working Cow Horse
1995 Congress Reserve Champion Sr. Reining (50 pts)
1996 Congress Champion Heading (103 pts)
1996 Congress Reserve Champion Heeling (48 pts)
1997 Congress Reserve Champion Working Cow Horse
1997 Congress Reserve Champion Steer Stopping (58 pts)
3rd at APHA World Show in Working Cow Horse
Leo San Citas sire, Citas Perfection, had 113 halter points and 17 Grand Champion and 13 Reserve Grand Champions; his sire Cita Mount had APHA Champion, National Halter Champion, Canadian Halter Champion, Superior Halter with 71 Points, 14 Times Grand Champion, 21 Times Reserve Grand Champion, Superior Western Pleasure, and ROM Trail.

Leo San Citas dam, Stormy Dee Baker, also had 82 halter points, 9 Grand Champions, 7 Reserve Grand Champions, and 21 Performance points.
GILLS Q TON:SIRES GRAND SIRE-1972 APHA Champion;H-43.0(11x Grand/11x Res)/P-388.0(HUD-15.0(ROM)/ Barrel Racing-14.0(ROM); Calf Roping-6.0/Heading-4.0/Healing-8.0/Pole Bending-5.0/Reining-67.0(Superior/ROM)/Trail-74.0(Superior/ROM)/Working C
SON OF Q Ton Eagle, APHA Supreme Champion, out of the legendary paint Q Ton Eagle, who had 5 national Champion, in halter, reining, and get of sire.
dam is a SMART SANS OLENA with direct lines to the legend Docs Zimfandel :
AQHA Champion
ROM Performance
AQHA World Champion Jr Cutting
NCHA $198.70
PCCHA Futurity Champion.
World CH Sire, Sup. Perf Sire, NCHA Get Money Earners
Classy Little Lena (won more then $56,000 as a cutting horse), out of the top cutting horse Smart Little Lena (over $500,000 in cutting), see Smart Little Lena: NCHA Triple Crown Winner and NCHA World Champion- LTE$577,652.36 Number # 1 all-time Leading Sire of NCHA money earners: $33,565,935.00 Sire of NRHA LTE $453,643.00, Sire of NRCHA LTE $253,988.76 NCHA money-earner of ($743,275.00 LTE)88%NFQHA. and Sugs Gay Lady ($320,000 earned cutting). These are famous performance horses in cutting, reining, reined cow horse, et cetera.
has had many nice foals for us.
We are riding her now, and she can be seen on the riding horses page for more pictures. left open so we can ride her. Half price breeding comes with mare for 2013 to any of our stallion.
not for sale at this time. She is bred to Prince for a march 2014 foal.
---
.