PROSPECTS
SHOW PROSPECTS
On this page you will find some of our up and coming broodmare/stallion and performance prospects. At this time they are not for sale. WE thank all our customers, as we have sold all the ones we had for sale and others we did not want to sale, sold also..so we clinging to these. We have plans to start the fillies on this page this year, and you can see we have started our saddle training and groundwork. They should be ready to ride this fall and go into further riding training then.
---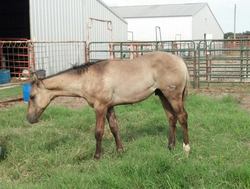 RRW Cee Me Dance
2013 grulla AQHA COLT.
high foundation 91.87
new arrival of a colt we hope to raise up and train. Introducing some new bloodlines lots of foundation with speed and ranch performance blood. Great outcross with lots of quality and potential. WE think he will be very prepotent on type and quality. Color is only the icing on the cake.
WE maybe changing his name, but here is his pedigree
JODY FAIRFAX: 18 NCHA COA Platinum 1974 NCHA Open Futurity Finalist- 3rd 1975 NCHA Open Derby Finalist 1982 NCHA Res. Champion Open Stallion NCHA earnings $87,998.55.

JODY FAIRFAX STORY the hard luck horse.
Goodbye Sam: AQHA Race SI-95/AAA/ROM
16-3-3-2, $624
AQHA Show H-53/P-88.5
AQHA Champion
AQHA Supreme Champion
ROM Halter
ROM Cutting
Superior Halter
Superior Cutting
NCHA $4,682
1970 AQHA High Point Cutting Horse-9th
53 AQHA halter points, 52 cutting points, 36.5 Western Pleasure points
Blue Valentine: ranch horse use and competition, dally/team roping to barrels. Blue Valentine horses are known for their gentle disposition, bone frame,good feet & minds. info can be found here also. Hancock horses.
Texas Dancer: sire of Halter and performance pointed horses, ROM's, Superior's, Race world Champion, Race world Championships.
Dick Sonoita: AQHA Show H-68/P-73
AQHA Champion
Superior Halter
Superior Performance
NCHA $418.13
Team Rope, Hi-Pt Rope, ROM Perf. Get earned 2,680 pts, 10 AQHA Chps, 32 ROMs, $3,025 NCHA
---
CSS atru Shining Star
(A Tru Indian Chief X Shining Tivio Bar)
APHA
2013 smokey black paint filly
Super cute and sweet filly. Carries one crème gene and one red gene. Maybe homozygous tobiano untested. She can produce dilutes such as buckskin and palomino. Her pedigree has many greats in it and love her breeding, as an example of what we are trying to achieve here. Great conformation, quality and color all wrapped in one package.
Sire side has A Tru Rolex:
APHA all time Hi-point horse
Performance Record update: OVER 3500 APHA points
H-4, P-2167
9 ROMs
9 Superiors
3 Times Reserve World Champion
4 Times Congress Champion
QT Poco Streke: NRHA BRONZE TROPHY
APHA WORLD CHAMPIONSHIP RESERVE REINING STAKES
WINNER OF THE WORLD WIDE PAINT HORSE CONGRESS
HIGH POINT OCAP HORSE (ALL THRU NRHA COMPETITION)
RESERVE NRHA LO AT THE ALL AMERICAN QUARTER HORSE CONGRESS (AGAINST 47 AQHA REINERS)
TWICE NRHA OPEN CHAMPION & TWICE NRHA LO CHAMPION
EARNED HIS ROM IN REINING (18 pts) AT 2 SHOWS
HIGH POINT MIDWEST OPEN & LIMITED OPEN REINING HORSE

Shots Flying Spark: APHA ROM Heeling
2 Times APHA Reserve World Champion
APHA Superior Amateur Breakaway Roping
Sire of:
2- APHA World Champion Performance Sire
6- APHA Reserve World Champion Performance Sire
21- APHA Halter Point winners
37- APHA ROM winners
2,615 Performance points in: Heading, Heeling, Calf Roping, Reining, Working Cow Horse, Barrels, Hunter-Jumper, Showmanship, Steer Stopping & Ranch Sorting

Dams side:
Shining Spark: AQHA Hall of Fame
World Champion
ROM Performance
NRHA money-earner
World Show Qualifier
AQHA Leading Sire
NRCHA Leading Sire with $3,000,000. NRHA $3,000,000 sire
Sire of:
World Champion Offspring
Reserve World Champion Offspring
Superior Performance Offspring
AQHA High Point Performance Offspring
ROM Halter Offspring
ROM Performance Offspring
NRHA Money-earners
NCHA Money-earners
World Show Qualifiers
Zan Parr Bar: AQHA Show H-245/P-357
AQHA Champion
Superior Halter
Superior Steer Roping
Halter-114 Grand Championships
357 performance points in 5 events: Western Pleasure, Reining, Calf Roping, Heading and Heeling
Three-time World Champion Halter Stallion: 1977, 1979, 1980 (In 1979: won the Halter and placed 6th in Heading & 7th in Heeling)
High Point Junior Halter Champion and Halter Stallion: 1977
High Point Steer Roping Champion: 1979

Bar Money: AQHA Race SI-95/AAA/ROM
13-4-2-3, $1,797
AQHA Show H-30/P-17
AQHA Champion
AQHA Supreme Champion
ROM Halter
Breeder: Walter Merrick, OK.
Tivio Bar : NCHA money earner by Quincy Dan: AQHA H-68/P-0
Superior Halter
Sired: 11 Champs, 23 Show ROMs, Superior Race, Halter & Performance, Race & Performance ROM, World Champion, Hi Point 57% foundation
$1600.00
---
---
---
---
css my Dun fantasia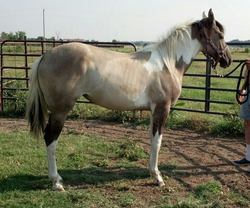 (Rips Prince of Tides X Dressed to the Tens)
Filly foal 02/22/12
grullo tobiano
sire 15 hands, dam 16.3 .
I think she would make someone a fancy pleasure prospect for local events in English riding and also a great broodmare. She had an accident when she was a weanling and broke her jaw, it has healed up but is misshapen. She however does not have any trouble eating and teeth do not need any special care to be maintained. The damage is superficial and she can carry a bridle with no problem has full used of her mouth. This filly was long awaited for and due to our farm is changing directions, we are reducing our paints to a minimum and western type horses. She would be an asset to a serious person looking for this magic beauty and potential as a rare gem that she is, has plenty to offer in the way of nice foals with color, class and marketability. This could be a great speed event horse such as barrels and poles.
she has been handled all her life, and will be easy to manage with no issues or vices. We have priced at half of her sale price due to the jaw disfigurement.
Regular $2800.00
$1400.00 sale price to some lucky person!
---
---
---
---
CSS QTs Dixie Delta
(Rips Prince of Tides x Misty Delta)
2013 APHA red dun tobiano filly
Sire side : line bred QT Poco Streke, Dam side: Line bred Doc Bar with Delta breeding.
$1200.00 obo
---
---
---
---
FAncy Badger Chex
blue roan filly aqha
(Poco Jo Hancock x Fancy Baby Chex)
Lots of great foundation blood on the top and cutting lines on he bottom. This filly is sweet and loving, and has all the skill of the cutters. She should be able to moves some cows when she is older, she is not at all shy or scared of anything. Sire side: Eddie Jo Hancock and Gooseberry, dams side: Peppy Badger Chex, Cee Bee Command and Handlebar Doc.
more pictures coming as she sheds in the spring. Right now she has her summer coat, that is sun burned and going into winter.
---
---
Shilohs Dun Revenge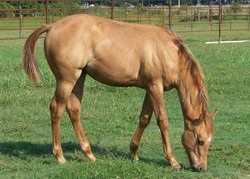 AQHA #5517561
feb 14, 2013
dun filly
(Tiger Stripe Peppy X Plenty o Pep Possum)
Sire side Peppy San, Leo, Poco Bueno, Joe Reed II, dam side Plenty Try, Peppy San Badger, Boon Bar, Clark's doc Bar and more. Nice big boned filly will be muscled every way possible.
maybe homozygous dun, dam has produced dun foal every time even on non dun stallion, and sire is Grulla.
$950.00
---
---
CSS Atru Lacey Rose
(A Tru Indian Chief X QTs Tuff Rose Olena)
could be double homozygous, untested. We will when we get time to do this. She is the last foal for us out of her wonderful mother we had for years.
Sire side: A Tru Rolex, Shots Flying Spark, QT Poco Streke.
Dams side : QT Poco Streke, Doc O Lena.
not for sale.
---
---
---
CSS A Tru QT Magnum
(A Tru Indian Chief X Hesq amigos moon rose)
2013 APHA black tovero colt
sire tested negative for 5 panel test!!!
Herda, HYPP, GBED, PSSM1 and MH
sire side pedigree: A Tru Rolex, Shots Flying Spark and QT Poco Streke!!!
Dams side: Sonnys Amigo Bar
1998 APHA World Champion Tobiano Color
1 ROM (Heading) , APHA Performance Points (Heading, Heeling, Steer Stopping)
Bottom of the pedigree has Moon Lark, Top Moon and Rocket Wrangler. This colt should be able to perform!
This colt has so much potential, can go in most any direction from performance halter to roping, reining, barrels or poles. Super markings, big bones, will be muscled all over when mature. Size and weight mature prediction 15 hands 1100 pounds. Colt is not homozgous, carries one red gene. Can produce many colors and patterns including the overo/sabino pattern. Weaned , handled daily, stalled and fed, haltered, started leading, trailered, coggins, dewormed.
stallion potential or super show horse/gelding or stallion.
SOLD SOLD SOLD SOLD!!!!!!!!!!!!!!!!!!!
---
---
---
---
.
we register all our foals.