Farm breeding and boarding services
Stallion Services
At this time we have no stallion services available. WE have sold all of our standing stallions, one is sale pending and will be leaving soon. WE do have some foals by the stallions Prince coming in 2014. He can be seen below. The only other stud colt we have now is being trained and he is not being used until 2014. He is a perlino quarter horse and can be seen below for future consideration.
WE have available for your consideration in 2012 our senior stallion, Prince : grulla homozygous tobiano (sale pending) Chief : double homozygous black tobiano(sold to california). With much sought after pedigree, quality and guaranteed paint and live foal w/contract. Takes the guessing out of breeding. WE offer discounts for mares who are proven show winners or producers. Contract required for all mares. Jessy perlino QH, pictured last will not be available until further notice. Please see the information on each below. Jessy will be available in 2014. Stay tuned for further updates on paint stallions standing. We at this time may not have one for a few years.
Stallion breeding fees
$100.00 handling fee up front comes off stallion service fee.
stallion fee $500.00 (limited 2 mares per month)
boarding 2 weeks free and sonogram included.
board is $8 wet mare, $6 dry mare. If you bring your own feed, take off $2 off per day. Private stall paddock with shavings extra $3 per day.
All vet fees, farrier or emergency care, mare owner is responsible, not included in board or breeding fee. Breeding is March 1st to June 30th. Live cover only hand breeding, no shipped semen.
SALE PENDING TO DREW G. OF KANSAS CITY
Prince
Rips Prince of Tides-APHA 2006
(AKS RIPTIDE X QTS CENTERFOLD)
APHA homozygous tobiano grullo stallion 15 hands
tested negative for 5 panel test!!!
Herda, HYPP, GBED, PSSM1 and MH
pedigree has such greats as QT Poco Streke 3 times, and Mr Boggie Jac and VanTyke( foundation Three Bars, Leo, Joe Reed II).
Live paint foal guarantee with contract (guaranteed spots and live foal) If foal does not qualify for regular papers free stallion rebreed and you get to keep the first foal as well.
Tested homozygous tobiano, negative agouti and one recessive red gene. Simply stated, Prince is grullo guaranteed for spots of the tobiano pattern. Foals color will vary according to the color of the mare. Better your odds by bringing a black based horse and/or dun gened also for the same in your foal.
Jessys Hollywood Doc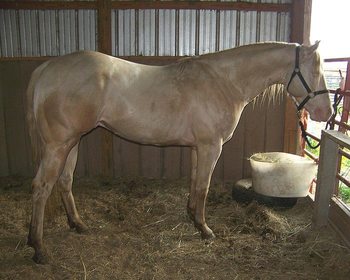 2010 Perlino AQHA colt
Jessy
( Hollywoodbomdiggity X Prescription Jessie)
sire is buckskin and dam is dunskin
breaking news!!! Tested homozygous for agouti and carries 1 red gene!!!! Jessy will never produce smokey black, but only buckskin or palomino. If he is dun gened then he can produce dunalino and dunskins. We will know over the years if he does produce dun gened out of non dun qh mares.
NRHA World Champion (1974 & 1975 Non-Pro)
Top Ten World Show (1974 Reining
Superior Performance (1974 Reining
NRHA $6,090
ROM Performance
NRHA HALL OF FAME
NRHA $1 million sire
NRHA LTE: $65,808.84
The 2nd All Time Leading Sire in National Reining Horse history.
Hollywood Dun It has broken every National Reining Horse Association siring record.
When the 2004 NRHA Futurity came to a close, his foals carried him past the $4 Million siring pinnacle.
Offspring Record:
Registered Foals: 1,178
Point Earners: 482
Points Earned: 10,638
Total Offspring Earnings: $5,438,583.80
NRHA Hall of Fame, NRHA 10+ million dollar sire, NRCHA Million dollar sire.
Earner of $167,471 in cutting, reining and cowhorse events, and 65 AQHA points
1990 AQHA World Sr. Cutting Open Champion
1993 AQHA World Sr. Reining Open Champion
2004 NRHA World Champion
Reserve World Champion, NRHA Open
NCHA Super Stakes, 1989 3rd O Super Stakes, Top Ten.
Herda N/N


AQHA CHAMPION:

NRHA money-earner, NCHA money-earner, Halter Point Earner, ROM Performance.
OFFSPRING: World Champion Offspring,
Reserve World Champion Offspring,
Superior Performance Offspring,
ROM Halter Offspring,
ROM Performance Offspring,
NRHA Money-earners,
NCHA Money-earners,
NSBA Money-earners,
NRCHA Money-earners.
Sire of Blue Boy Doc World Champion Sire and Shy Presription
full brother to Docs Hotrodder, Docs Lynx , Docs Cupcake
bottom side has running blood, Three bars, Clabber Bar, Barjo,
5 panel test: Hypp, Herda, PSSM1, MH negative.
gbed carrier:When a normal mare or stallion (GG) is bred to a carrier stallion or mare Gg), there is a 50% chance that the foal will be a carrier (Gg) and a 0% chance of an affected foal (gg): Figure 2 illustrates the pattern of inheritance for normal/carrier crosses.
We will not breed him to any GBED positive mares, and advise any mare owners to test negative for GBED before breeding. To avoid abortion or symptomatic foals who die, this is imperative. We will be testing our mares to be bred to him when the time comes to prevent this. GBED facts
---
---
Mare care information for the mare owner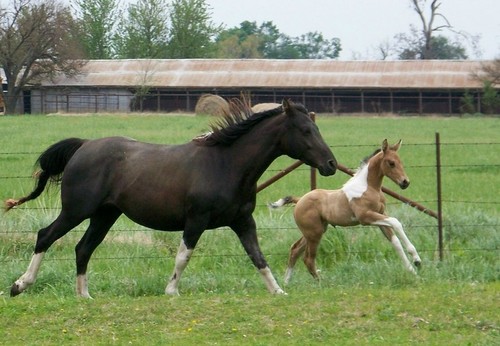 Above one of our farm mares Rose pictured with her foal, and the condition we expect any mare to be in on arrival.
boarding varies

guaranteed live foal

guaranteed tobiano with Prince

CHARGES AND FEES THAT MAY APPLY

veterinary services if necessary

any necessary expense for the health of any visiting mares, including medicine or shoer

dewormings and vaccinations if not done
discounts available to money earning or point earner mares, daughters of the same or champion sired, as well as multiple mares.
Mare breeding and boarding
All mares must be in good health, and breeding condition, neg. coggins, current on vaccinations, deworming and hoof care. All must have negative culture before breeding. Can be done by a vet here or you can have your vet do it. Paperwork required to show test results. Any special care issues must be discussed in advance and may be extra charge for additional requirments. Barren aged mares are recommended to be given reproductive exam by an experience reproductive horse vet and have palpation, sonogram, culture and biopsy before breeding. There are no guarantees on aged barren mares who have not undergone these test for breeding soundness. All mares must be halter broke and tie, cannot have shoes on the hind feet by breeding or they will be pulled at the owners expense or may delay breeding because of the wait on a shoer. We do live cover only and hand breeding supervised to protect both mare and stallion. We guarantee our stallions fertile but if the mare has infection or fertility problem the stallion cannot be held responsible. We intend to get every mare in foal and mare owners need to be aware of other conditions that could effect breeding other than stallion fertility. WE have 100% conception so far on our farm due to stringent breeding methods and protocol. Best chance is young healthy mares who are not under stress and in breeding shape and checked clean on culture..would be a sure thing FYI(without considering hormonal problems).
Mare/horse boarding All hay and feed provided in this price. Vet charges for reproduction or other will be paid by mare owner in addition to stud fee and booking charge. Ask for contract and care sheet before arrival must be read and agreed on before arrival.
mare care articles that are benefitial to read about for mare owners, and printable records on the second link. click on the link to read further, and if you are a mare owner I recommend you do your homework.
FOAL CARE
---
---