IN MEMORY
THOSE WE MISS SHOWN HERE
We are wanting to show some special individuals we have lost and GONE over the rainbow bridge. These lost due to some tragic event and cannot be replaced. Our hearts will always hurt over them, and we are forever grateful for the time we had them and for there contribution to our farm. They will go on forever in our hearts.
memorial to those we have lost and miss............
Don't cry for the horses that life has set free.

A million white horses forever to be.

Don't cry for the horses now in God's hand.

As they dance and they prance in a heavenly band.

They were ours as a gift, but never to keep.

As they close their eyes forever to sleep.

Their spirits unbound. On silver wings they fly.

A million white horses against the blue sky.

Look up into heaven, you'll see them above.

The horses we lost, the horses we loved.

Manes and tails flowing they gallop through time.

They were never yours - they were never mine.

Don't cry for the horses. They'll be back someday.

When our time is gone, they will show us the way.

Do you hear that soft nicker? Close to your ear?

Don't cry for the horses. Love the ones that are here.

~Author Unknown~

If it should be that I grow weak,

and pain should keep me from my sleep.

Then you must do what must be done,

for this last battle cannot be won.

You'll be sad I understand,

but don't let your grief stray your hand.

For this day more than all the rest,

your love for me must stand the test.

We've had so many happy years,

what is to come can hold no fears.

You'd not want me to suffer so;

the time has come, please let me go.

Take me where my needs they'll tend,

and please stay with me til the end.

Hold me steady and speak to me,

until my eyes no longer see.

I know in time that you will see,

the kindness that you did for me.

One more time please stroke my mane,

and know that I'll have no more pain.

Please do not grieve it must be you,

who has this painful thing to do.

We've been so close, we two, these years,

don't let your heart hold back it's tears.

I live now in your heart and mind,

a lovely place to stay.

And what you have in memories,

no one can take away.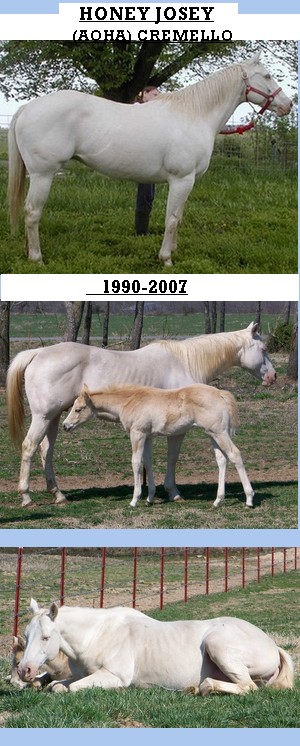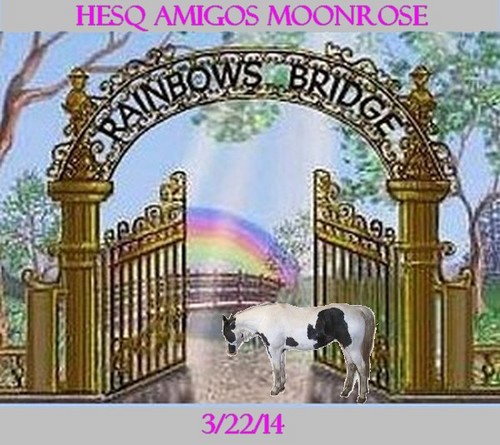 Hesq Amigos Moonrose - passed 3/22/14 and her precious 2014 foal also died that day.Treasured and lost.