2011 FOAL GALLERY
---
all the foals are weaned now, have trailered, tied and started leading. They have had first vaccinations and dewormings. They are fed and handled daily. WE have one dun filly left, she is super nice. Pictures below.
03/09/2011
APHA black and white tobiano FILLY
(Rolexs Sparklin Pine X HESQ Amigos Moonrose)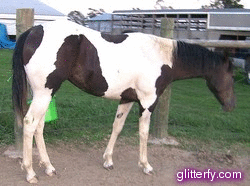 SALE PENDING TO MI.
Sire side A Tru Rolex, Shots Flying Spark, Poco Pine. Dams side is Sonnys Amigo Bars, Moon Lark, Top Moon to name a few. Super performance prospect in any event, perfect in every way and muscled up all over.
---
03/13/11
AQHA BUCKSKIN FILLY
(Tiger Stripe Peppy X Jet Fire Chinceta)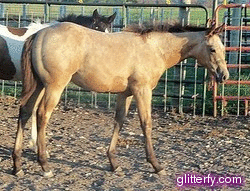 Sire side Peppy San, Leo, Poco Bueno, Joe Reed II, dams side Doc Tari, Texas Dancer, Jet Deck. Should do most any speed event, barrels, poles, team penning etc. Super nice balanced filly with tons of muscle and agility.
SOLD to Doug and Susan OF W. Virginia!!!
---
03/23/11
AQHA Bay filly
(Tiger Stipe Peppy X Lil Shivs Robyn)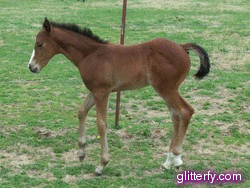 Sire side Peppy San, Leo, Poco Bueno, Joe Reed II. Dams side Peppy San Badger, Dry Doc, Mr San Peppy, Cal Bar. This filly should cut a cow, work cows every way and have the attitude to do it, as well as the natural bred ability and desire. She will be a nice thick filly and tank of a mare when mature.
$800.00 obo
SOLD! THANK you Kenneth!!!!!!
---
AQHA #5386279
04/07/11
AQHA red dun filly
(Tiger Stripe Peppy X SHILOH SAN PEPPY )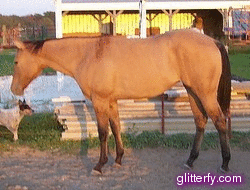 Sire side Peppy San, Leo, Poco Bueno, Joe Reed II, dam side Peppy San Badger, Boon Bar, Clark's doc Bar and more. Nice big boned filly will be muscled every way possible. New pictures coming.
$1400.00 FIRM
RIDING NOW, SEE HER PHOTOS ON THE SALES PAGES
---
04/09/2011
cremello APHA colt
(Riskey Leo Iceman X Shining Tivio Bar)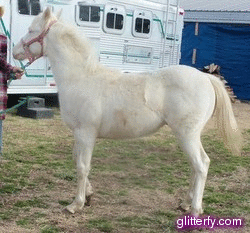 Fabio has the best of quarter and paint breeding and would make a super nice prospect and then a stallion to breed to your paint mares or a super nice cros on arab mares for a breeding program geered towards reining, cutting, workin cowhorse with color. He will be a good sized and stout made horse when he is mature. He is mostly the best of Quarter horse with such horses as Shining Spark, ZanParr Bar, Bar money, and tivio bar, sire side has the great Ris Key Business well know performance champion and producer also. Dam sid has 9 HALL OF FAME horses in her pedigree, Blondys Dude, Clabber, Doc Bar, Diamond Sparkle, Top Deck, Joe Reed, Joe Reed II, King and Three Bars(one off papers). This colt should be able to do most any event and produce some high caliber offspring with color later. For the serious breeder who want quality, with pedigree and color gurantee on your foals.
He will be vaccinated, dewormed, and fed daily, handled and tie train, trailered and halter leading by departure. pictured at one week old, solid blaze face and one small stocking in the rear.
$1600.00 obo
ON SALE $ sold to Jose P. of Arkansas
---
AQHA GRULLO COLT
04/26/11
(Tiger Stripe Peppy X Plenty O pep Possum)
Sire side Peppy San, Leo, Poco Bueno, Joe Reed II, dams side double Peppy San Badger, Boon Bar, Suger Bars with Clarks Doc Bar and Royal King. Super nice big colt, great muscle and bone structure. Will be a stout made horse with the ability to do most any working cowhorse, reining, cutting or other. New pictures will be seen on the updated pages site. Click on the link at the top of the page to check for monthly updates. Will be available to purchase after testing, for dun and black to determine if he is in fact double homozygous. This will be posted as soon as the information is recieved as well as his price.
$1800 sold!!!!
---